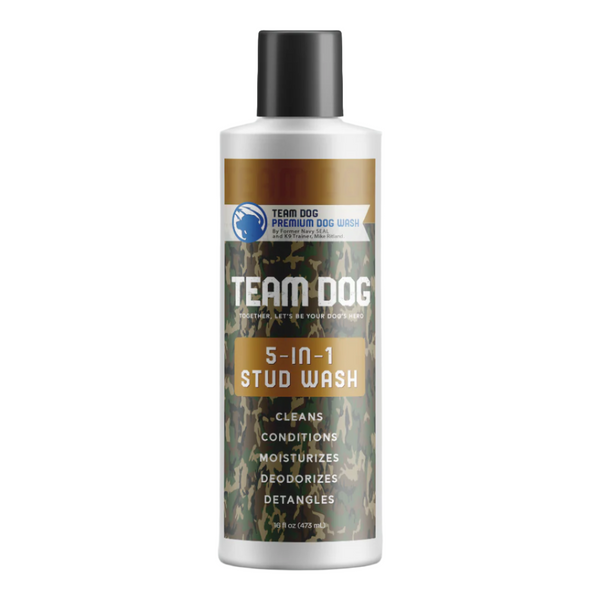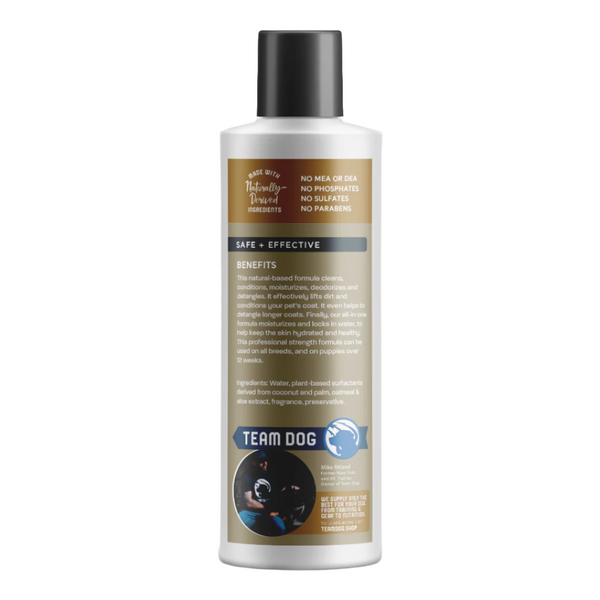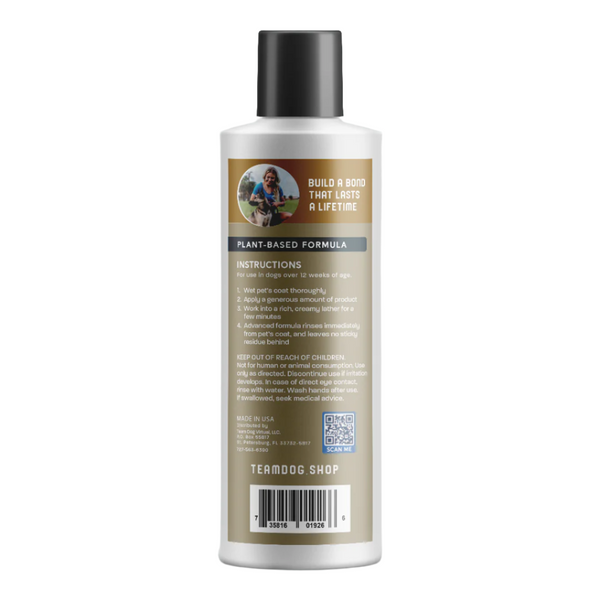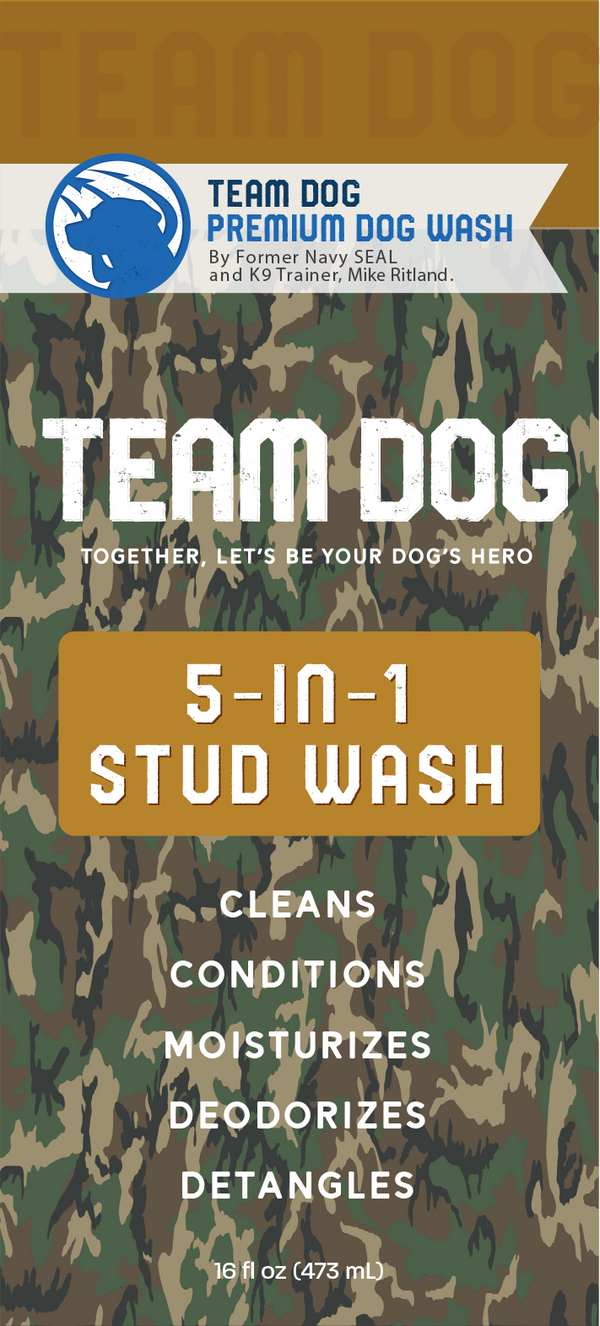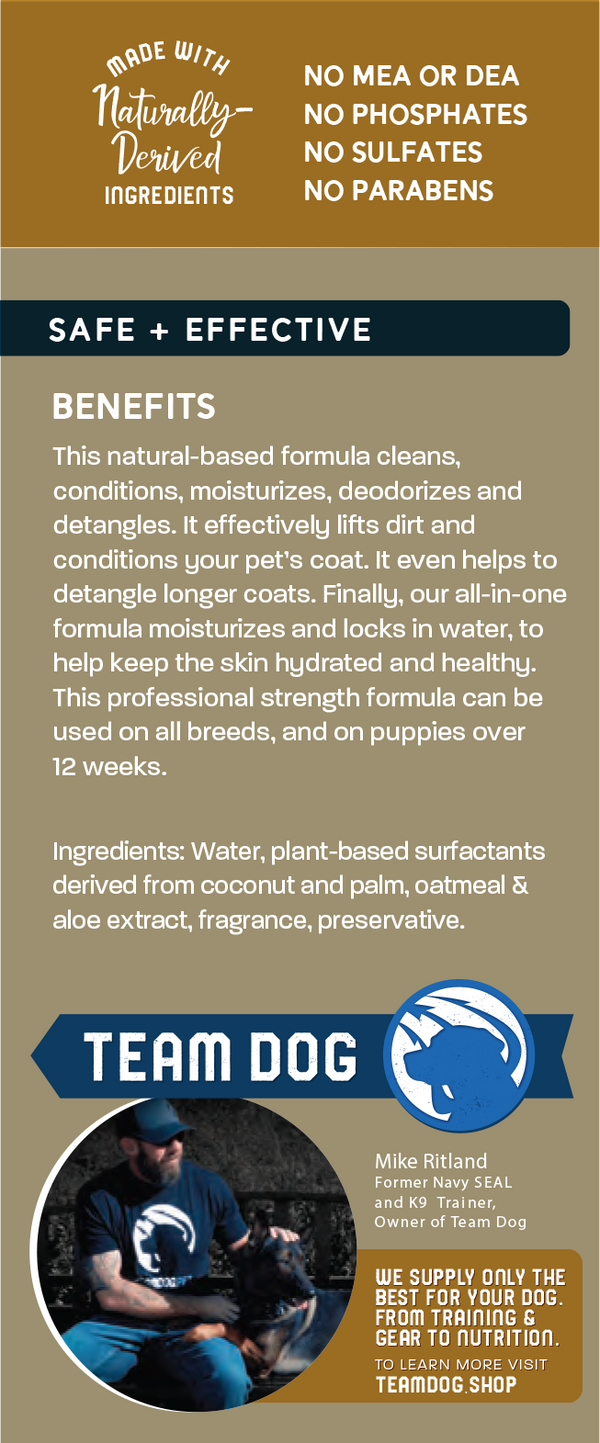 5-in-1 Stud Wash Shampoo - 16 floz
Regular price
$13.99
Sale price
$18.99
*If it's 12 degrees at 14,000 elevation or 130 degrees at sea level, Mike's standard is that the dogs can still operate optimally despite any exterior condition with steadfast training."

- Mike Ritland
Nutrition and training are the key elements to a happy and healthy dog, but just like world-renowned athletes, dogs can benefit from implementing supplements into their diets and routines. The Team Dog line of supplements are an all-natural solution to providing your dog with the boost it needs to perform. 
Born from the battlefield, not the boardroom, Mike Ritland stands firmly behind all his products. From his Team Dog Online Training, Team Dog Food, & treats you can trust in the quality and results. 
CLEANS
CONDITIONS
MOISTURIZES
DEODORIZES
DETANGLES
16 fl oz (473 mL)
Benefits
This natural-based formula cleans, conditions, moisturizes, deodorizes, and detangles. It effectively lifts dirt and conditions your pet's coat. It even helps to detangle longer coats. Finally, our all-in-one formula moisturizes and locks in water, to help keep the skin hydrated and healthy. This professional strength formula can be used on all breeds, and on puppies over 12 weeks.
Instructions
1. Wet pet's coat thoroughly
2. Apply a generous amount of product
3. Work into a rich, creamy lather for a few minutes
4. Advanced formula rinses immediately from pet's coat, and leaves no sticky residue behind

Ingredients: Water, plant-based surfactants derived from coconut and palm, oatmeal & aloe extract, fragrance, preservative.
Shampoo
Great product. Smell good and makes her hair looking great
Great shampoo for "don't bath me" dogs!
My GSD hates water…. He looks at me with distain and says do I look like a water dog?? Lol! Easy on, good scrub and really easy rinse! Equals=soft, smell good dog!
Stud Wash
Rejier for sure thinks he is a stud, Now he's a clean smelling stud.
Good shampoo, lathers and rinses well.
Squeaky Clean
The Stud Wash is a fantastic shampoo that cleans, moisturizes and easily rinses without leaving a residue. My dog is very happy that I no longer need to spend 20 minutes rinsing shampoo out of his coat. Of course, he receives tasty Team Dog treats for being a good boy during his bath! I am thankful Team Dog has such outstanding dog products and services, so I can support a company that shares my values.