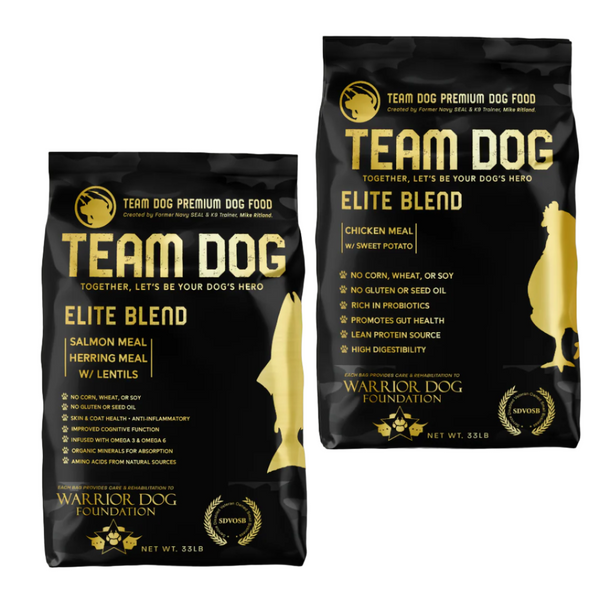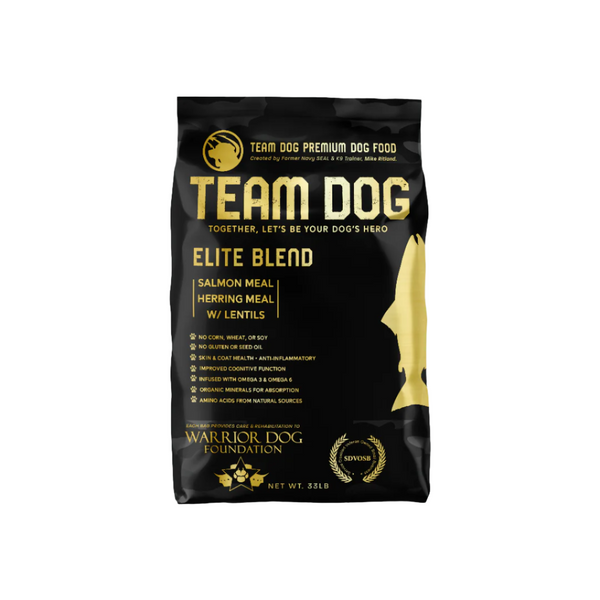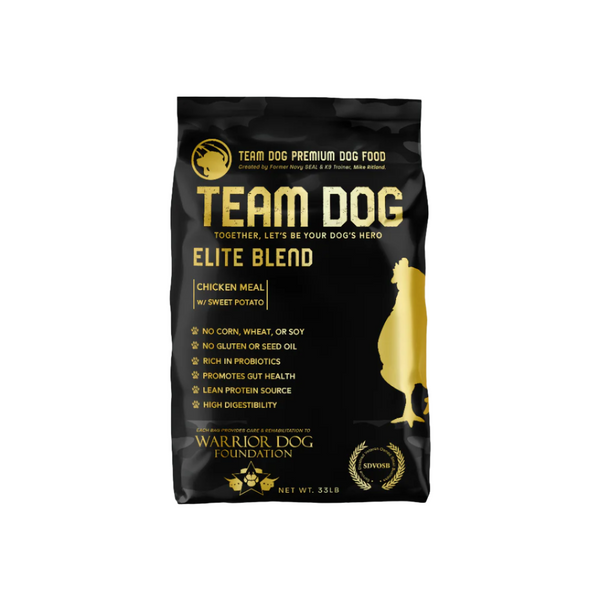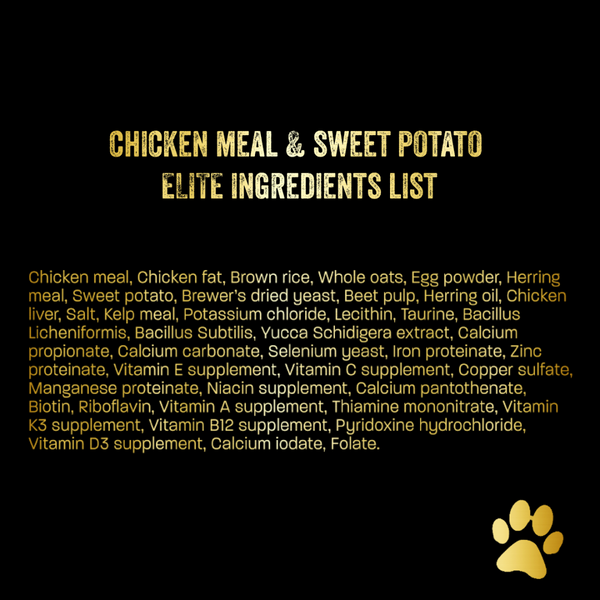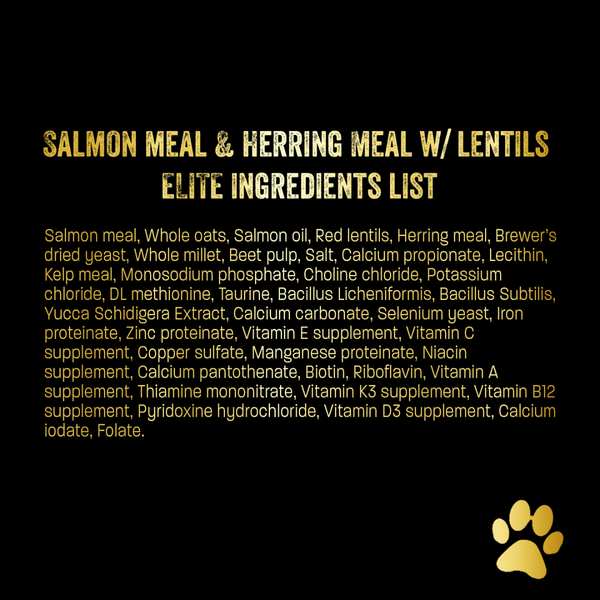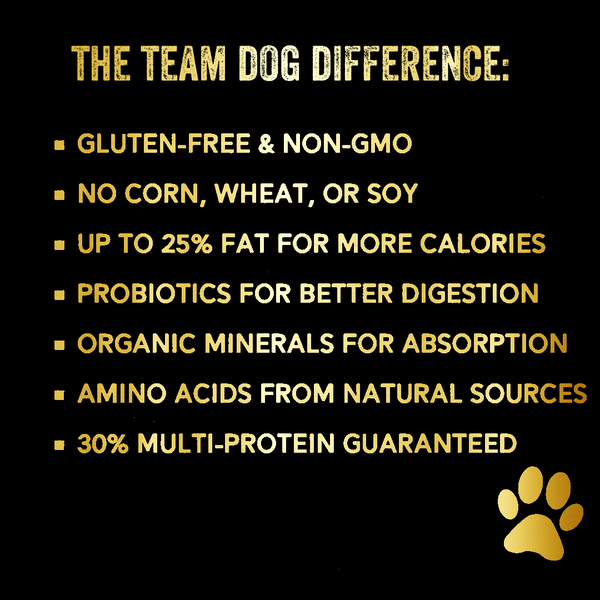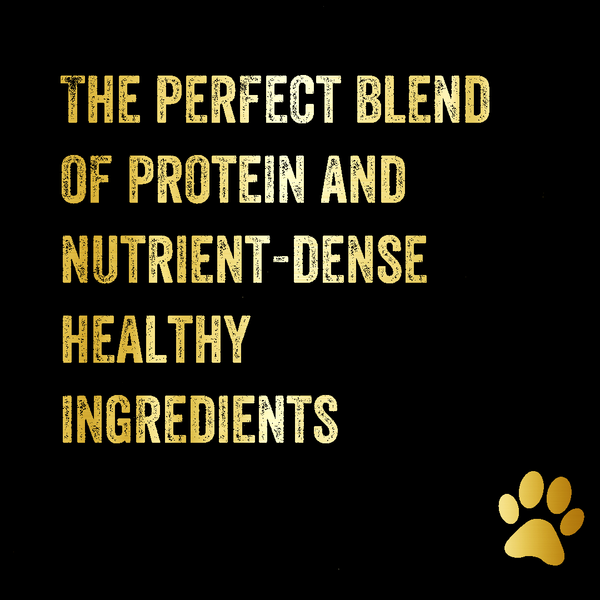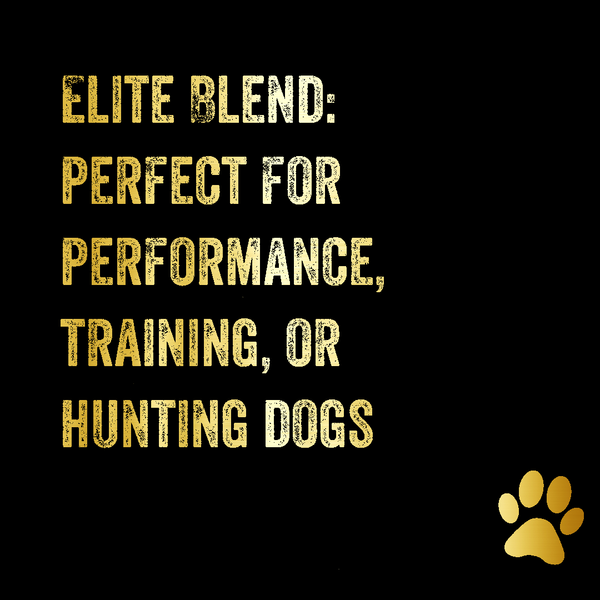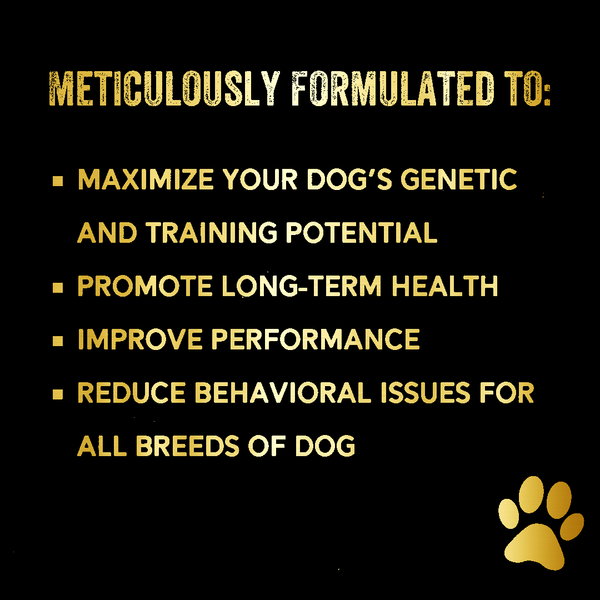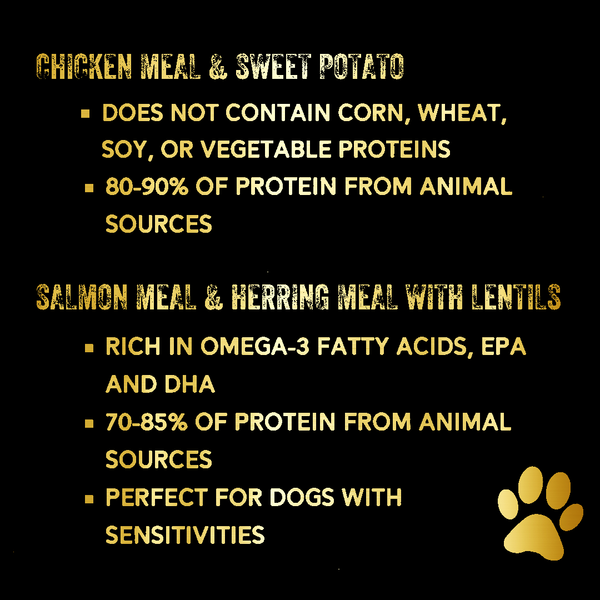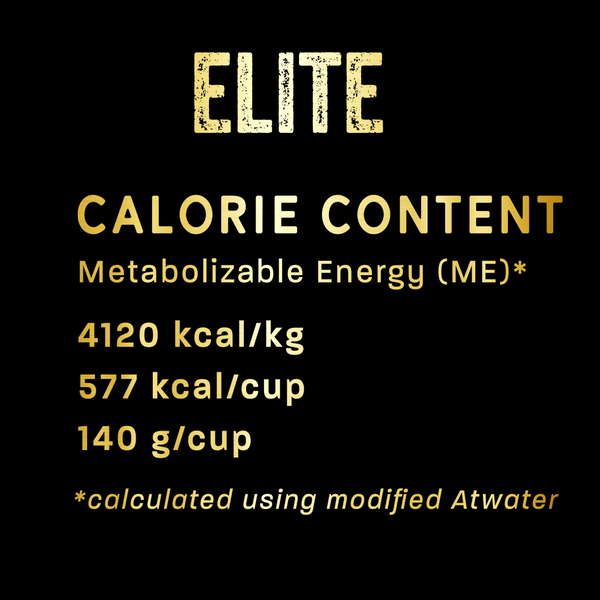 Elite Blend Premium Dog Food
Team Dog ELITE BLEND is the perfect dog food for active dogs, working dogs, K9/police training dogs, and hunting dogs. The ELITE formula will help your dog achieve maximum performance.
Meticulously formulated to maximize your dog's genetic potential, promote long-term health, improve performance, and provide higher mental acuity, energy, overall vitality, reproductive abilities, and improved appearance.
More than 250 authentic reviews! Give your pup the benefit of Team Dog nutrition today!
Team Dog Food provides the perfect blend of protein, fat, and nutrient-dense healthy ingredients for your dog. More energy is packed in our food blends using specialized cooking procedures than many industry leaders. This means your dog can maintain great health and performance, all while feeding and cleaning up less. It's that simple.
*We recommend Elite Blend active & "hard to keep weight on" dogs 
AAFCO Approved Formula
Proteins:
CHICKEN MEAL & SWEET POTATO
Does not contain corn, wheat, soy or vegetable proteins
80-90% of protein from animal sources
SALMON MEAL & HERRING MEAL WITH LENTILS
Chicken-free for those with sensitivities
Rich in Omega-3 fatty acids, EPA and DHA
70-85% of protein from animal sources
Benefits:
GLUTEN-FREE, NON-GMO
ALL LIFE-STAGE formula
NO CORN, wheat or soy
UP TO 25% FAT for more calories
PROBIOTICS for better digestion
ORGANIC MINERALS for absorption
AMINO ACIDS from natural sources
Feeding Guide:
| | |
| --- | --- |
| DOG'S WEIGHT | CUP |
| 4.5 - 11 | ½ - ¾ |
| 11 - 22 | ¾ - 1¼ |
| 22 - 44 | 1¼ - 2 |
| 44 - 66 | 2 - 2½ |
| 66 - 110 | 2½ - 3⅔ |
Guaranteed Analysis
| | |
| --- | --- |
| Crude Protein | min 30% |
| Crude Fat | min 25% |
| Crude Fiber | max 4.0% |
| Moisture | max 10% |
Transition Instructions
When transitioning your dog to Team Dog Premium Dog Food, substitute a small amount of current food with the Elite Blend, gradually increasing over a 4-day period.
Love it.
Definitely five stars. Our almost-3-year-old Lab mix loves it and always looks forward to meal time. She started looking leaner/stronger about a month into switching to the food. Once in awhile, she would throw up small amounts of bile in the morning - the vet said this could possibly be from having an empty stomach for an extended period. Thankfully, this has not happened once since switching to Team Dog. She is an absolute high-energy girl with no off-switch when it comes to playing with other dogs, playing fetch, and running around at the cabin or swimming in the lake. I knew that I wanted to find a premium quality food that would support her lifestyle and health for years to come - and we are very happy with the results thus far. We have already told friends and coworkers about it and we're very happy we made the switch!
Perfect stools... too much information?
Put simply, my dog -- the world's finickiest K9 eater -- was on a high-end kibble that he enjoyed, but which produced soft stools with no form... not diarrhea, but consistently soft and formless. So, we switched to Team Dog (which was seamless), and while my dog is extremely picky regarding his food and treats, he took to Mike's food from the start. To be fair, I do use a small amount of topper and/or 1/2 raw egg on his food, but that wouldn't matter to my dog if he didn't like Mike's kibble, which he does. The best part is that within two meals -- one day -- my dog's stools were perfect. Literally within 24 hours, Mike's food produced flawless stools, and continues to do so every day. We've been eating Team Dog for about 3 months now, and we couldn't be happier with the results. TMI on the bowel movements? Sorry, but dog people everywhere will certainly understand my happiness.
Amazing
My dogs absolutely love this brand of food and can't get enough of it. My dogs have really sensitive stomachs and this food has not aggravated their stomach and instead has improved their digestion. I highly recommend Team Dog to any dog owner and my dogs will only eat Team Dog food moving forward.
Great food for hard keeper
This is the first food my hard keeper eats pretty consistently. And gives no GI issues to his sensitive stomach. He is finally putting on weight with this food!